Attractions in Rab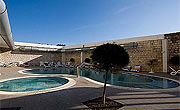 1. Hotel International Rab - Hotel Rab is located in the center of the old city on the island of Rab. Because of the very mild climate of the island, the promenade along the sea and the large park surrounding hotel Rab are excellent places for senior citizens in winter, spring or autumn. In the summer, nightly entertainment in numerous clubs and the lively Mediterranean atmosphere are particularly attractive for young people.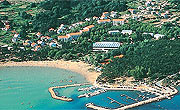 2. Tourist settlement San Marino Rab - Hotel village San Marino lies along the sandy beach that is 1,5 km long and well known under the name "Paradise beach". Owing to its location San Marino is an ideal holiday resort for families with small children, for not a good swimmers, and for the senior citizens during the periods before and after the main season that are interested in a beach holiday as this flat beach provides to the senior citizens going into the sea without any difficulties. The hotel village consists on the five hotels.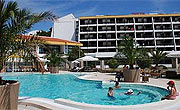 3. Hotel Padova Rab - Hotel Padova is situated in the bay of Prva Padova on island Rab, directly on the sea approx 5-10 minutes walk from the old town Rab. Hotel Padova offers to the guests a pleasant and comfortable stay throught the year.