Attractions in Ciovo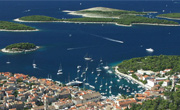 1. Fishing festivals, diving center, boat excursions, sports facilities, ancient monuments create a mix of modern tourist offer alongside with ancient heritage. Beautiful coves that contain some amazing beaches, lots of untouched nature and thriving underwater life are just some of the reasons for you to visit Ciovo.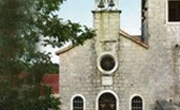 Monastery of St. Ante - Built above the cave that was once a shelter for hermits the Franciscian Monastery of St. Anthony kept a very decent display of 17th. century life. Inside is a crown made from golden silver and jewels, statue of St. Magdalene made by Ivan Dunkovic in 16th. century and a gallery containing the works of famous Jacopo Palma the younger dating back to 17th. century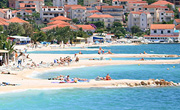 3.One of the most noted beaches on the island is certainly Milićevo in Okrug Gornji. On this beach that is almost 2km in length there are numerous restaurants and bars alongside it with variety of sports and recreational activities such as tube ride, beach scooters, and beach paragliding. At the end of the beach there is also small harbor offering boat transfer to Trogir. Many say that this beach is considered to be Croatian Copacabana.