Attractions in Hvar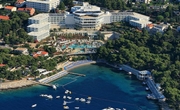 1. Hotel Amfora Hvar - Tucked into a tranquil bay, surrounded by a lush pine grove, and only a short ten-minute walk from the historic city of Hvar, hotel Amfora is the most exciting new resort on the Adriatic. With its state-of-the-art conference facility, diverse amenities and a beautiful private beach, hotel Amfora is ideal for family vacations, team building and large conferences.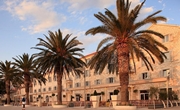 2. Hotel Riva Hvar - Hovering on the waterfront promenade in the heart of the medieval Hvar Town, Riva – Hvar Yacht Harbor Hotel, Croatia´s first and only member of Small Luxury Hotels of the World, offers you the finest in Adriatic ambiance. Completely reconstructed in 2006 incorporating a beautiful 100-year-old building, Riva brings together the best of both worlds: old world charm and state of the art luxury.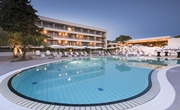 3. Hotel Pharos a hotel with a magnificent view overlooking Hvar bay and the Devil islands (Paklenjaci). Sunbathe on the pool terrace and enjoy the relaxing ambient of a nearby olive garden.