Attractions in Plitvice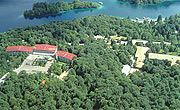 1. Hotel Jezero Plitvice - Hotel Jezero is situated in the very heart of the Plitvice Lakes National Park, only 300m from the largest lake, Kozjak. The hotel Jezero offers 229 units, including 7 suites, 7 semi-suites and 5 handicapped equipped rooms. There is also the possibility of adjoining family rooms in several accommodation units. All rooms are equipped with satellite TV, telephone and Internet connection and washrooms with either a bath or shower. The majority of rooms are equipped with a mini-bar.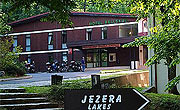 2. Hotel Bellevue Plitvice - Hotel Bellevue is situated next to hotel Plitvice. It has a total capacity of 70 rooms, of which 48 are double, 16 triple and 6 single rooms. Breakfast is served in the hotel and all other meals in the restaurant of the nearby hotel Plitvice or any other restaurant in the National Park. All rooms have a bathroom and a direct telephone line. There is a large sitting area with a TV and an outdoor terrace available in the summer time. The hotel is especially convenient for groups.