Recommended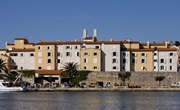 1. Hotel International*** - Hotel Rab is located in the center of the old city. Because of the very mild climate of the island, the promenade along the sea and the large park surrounding hotel Rab are excellent places for senior citizens in winter, spring or autumn. In the summer, nightly entertainment in numerous clubs and the lively Mediterranean atmosphere are particularly attractive for younger generations.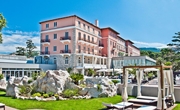 2. Hotel Imperial**** - Valamar Imperial hotel is an adults only hotel located close to the beautiful town park as well as the beach and a lively city center full of cultural sights. It was built in 1927. and at the time was one of the first hotels on the island. Hotel offers numerous services like Gin and Pool Lounge bar, restaurant Veritas, Wine bar and a wellness center with an indoor pool.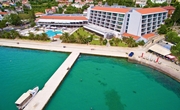 3. Hotel Padova**** - Hotel Padova is situated in the bay of Prva Padova on island Rab, directly on the sea approximately 5-10 minutes of walk from the old town Rab. It offers a pleasant and comfortable stay throught the year. Due to various hotel services it has become a frequent choice of families with children.