Recommended: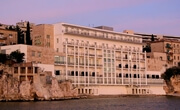 1. Hotel Jadran**** - The Hotel Jadran is located on the very coast. This is the hotel with long and interesting tradition and has been reopened in December 2005 after a thorough reconstruction. All 66 single and double bedrooms and three luxurious hotel suits are elegant and well equipped, with preserved old Mediterranean architecture.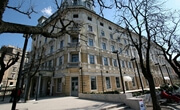 2. Hotel Continental*** - the oldest hotel in the Rijeka area. Hotel Continental was built and started its long history back in 1888. and it was renovated in 2008. Since than it was upgraded to category 3* and it offers 65 rooms and 4 suites. A great place to stay for everyone looking for a hotel with a central location where from they can explore Rijeka!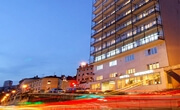 3. Hotel Neboder*** - This hotel is part of the complex of the Croatian Cultural Centre (Hrvatski kulturni dom) and also its highest segment. The building is 14 floors high and dominates the central part of Rijeka, oriented towards the sea. The view: starting from the right side and gazing to the left: eastern part of the Istrian peninsula and Ucka, Opatija, Rijeka and then further to the left towards small towns of Kostrena and Kraljevica and the island of Krk.