RIMSKE TERME

Take a break from everyday obligations, renew your health and treat yourself to complete relaxation and tranquility in the picturesque Slovenian paradise!
Roman Spa are situated in the lee at the foot of the mountains Stražnik and Kopotnik, in a wooded area of beautiful, rich and lush vegetation - exotic plants from across the world. One of the most beautiful places in Slovenia, Roman Thermae, the old spa area offers rich modern tourist services, thanks to its thermal water (one of the richest and most healing in Slovenia) whose proven to help treating.
---
ACCOMMODATION

---
ACTIVE HOLIDAY
The package is valid: 01/01/2017 - 12/22/2017



PACKAGE INCLUDES:
• Accommodation in a double room at the hotel with four stars
• Half-board (buffet breakfast and dinner)
• Rent a bike and walking stick (included map hiking and biking trails in the area)
• 1x entry to the sauna Varinia
• Unlimited swimming in pool complex with thermal water
• Garage parking
• Use of bathrobe and slippers during stay
• Free use of fitness center
• Drinking water from the thermal springs Amalie
• Unlimited access to the Internet
• Animation
• All-day bathing on the day of arrival and departure

***

SPA DAY
The package is valid: 01/01/2017 - 12/22/2017
Without extra charge for the classic single room!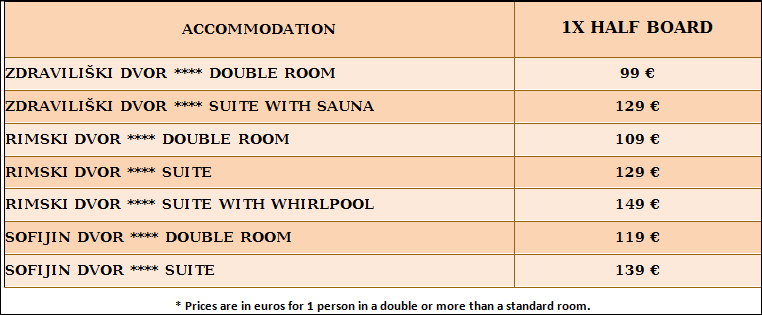 PACKAGE INCLUDES:
• Accommodation in a double or of standard room at the hotel with four stars.
• Half-board (buffet breakfast and dinner)
• Early check-in (the room is available from 9.00 am)
• 1x entry to the sauna Varinia
• Extended stay (late check-out) on the day of departure by 16 hours
• Unlimited swimming in pool complex with thermal water
• Garage parking
• Use of bathrobe and slippers during stay
• Free use of fitness center
• Drinking water from the thermal springs Amalie
• Unlimited access to the Internet
• Animation
• All-day bathing on the day of arrival and departure

***

XXL ROMANCE
The package is valid: 01/01/2017 - 12/22/2017




PACKAGE INCLUDES:
• Accommodation in a double or nadstandardnoj room at the hotel with four stars.
• Half-board (buffet breakfast and dinner; optional breakfast can be served in your room)
• 1x romantic dinner (4 courses, sparkling wine) in the à la carte restaurant Sofia
• 1x massage for her and him (20 min)
• 1x entry to the sauna Varinia
• Gift Voucher worth € 5 for the use of a service worth more than € 20 in Beauty Salon (discounts are not cumulative and do not apply to services in action)
• Coupon for 10% discount on cosmetics in the beauty salon (discounts are not cumulative and do not apply to services in action)
• Unlimited swimming in pool complex with thermal water
• Garage parking
• Use of bathrobe and slippers during stay
• Free use of fitness center
• Drinking water from the thermal springs Amalie
• Unlimited access to the Internet
• Animation
• All-day bathing on the day of arrival and departure

***

WELLNESS Á LA CARTE
The package is valid: 01/01/2017 - 12/22/2017




PACKAGE INCLUDES:
• Accommodation in a double room at the hotel with four stars
• Half-board (buffet breakfast and dinner)
• Wellness relaxation - appetizer, main course, dessert (3 spa service of your choice from the list of menu)
• 1x entry to the sauna Varinia
• Gift Voucher worth € 5 for the use of a service worth more than € 20 in Beauty Salon (discounts are not cumulative and do not apply to services in action)
• Coupon for 10% discount on cosmetics in the beauty salon (discounts are not cumulative and do not apply to services in action)
• Unlimited swimming in pool complex with thermal water
• Garage parking
• Use of bathrobe and slippers during stay
• Free use of fitness center
• Drinking water from the thermal springs Amalie
• Unlimited access to the Internet
• Animation
• All-day bathing on the day of arrival and departure

Ingredients of spa menu:
• Appetizer: hand care (15 min) or feet (15 min)
• Main course: massage of the head and shoulders (30 min) or back and feet massage (30 min) or Bath (45 min)
• Desert: spray thermal water or nail polish

***

ROMAN GODDESS
The package is valid: 01/01/2017 - 12/22/2017




PACKAGE INCLUDES:
• Accommodation in a double room at the hotel with four stars
• Half-board (buffet breakfast and dinner)
• 1x dinner (3 courses) in the à la carte restaurant Sofia
• 1x treatment in the SPA capsule (30 min - 45 min)
• 1x classic massage (30 min) or a bath in the historic part of the water nymph (45 min)
• Unlimited swimming in pool complex with thermal water
• Garage parking
• Use of bathrobe and slippers during stay
• Free use of fitness center
• Drinking water from the thermal springs Amalie
• Unlimited access to the Internet
• Animation
• All-day bathing on the day of arrival and departure

We recommend:
• Roman massage (60 min): 49 € per person
• Seasonal facial treatment (45 min): 40 € per person
• Roman bath for friends (60 min; herbal supplement tea +): € 50 for 2 people

***

LUX PACKAGE
The package is valid: 01/01/2017 - 12/22/2017




PACKAGE INCLUDES:
• Accommodation with American room at the hotel with four stars
• Full board (buffet breakfast, lunch and dinner; optional breakfast can be served in the room, a light lunch in the à la carte restaurant Sofia)
• Fresh fruit and thermal water from the thermal springs Amalia (for all days of stay)
• Sparkling wine, pralines and gift in the room (check in)
• Fresh flowers in the room
• Romantic decoration (check in)
• Mini bar (first charge free)
• 1x romantic dinner (4 courses) with candles in the à la carte restaurant Sofia
• 1x romantic dinner (slow food menu) in the à la carte restaurant Sofia
• 1x chocolate massage for two (60 min)
• Unlimited entry to the sauna Varinia
• Extended stay (late check-out) on the day of departure till 16:00 h
• Unlimited swimming in pool complex with thermal water
• Garage parking
• Use of bathrobe and slippers during stay
• Free use of fitness center
• Drinking water from the thermal springs Amalie
• Unlimited access to the Internet
• Animation
• All-day bathing on the day of arrival and departure

***

PROGRAM FOR SENIORS 50+
The package is valid: 01/01/2017 - 12/22/2017




PACKAGE INCLUDES:
• Accommodation in single or double room at the hotel with four stars
• Half-board (buffet breakfast and dinner)
• Measurements at the Medical Center Valetuda (blood pressure, weight, ECG and calculate body mass index)
• Group exercises in the RE-HA pool supervised by a physiotherapist (Mon-Sat)
• 20% discount for the use of a service worth over € 20 per person at the Medical Center Valetuda (discounts are not cumulative and do not apply for the service in action)
• Unlimited swimming in pool complex with thermal water
• Garage parking
• Use of bathrobe and slippers during stay
• Free use of fitness center
• Drinking water from the thermal springs Amalie
• Unlimited access to the Internet
• Animation
• All-day bathing on the day of arrival and departure

We recommend:
• Foot massage (30 min): 33 €
• Package MINI (6 selected therapy dependent on indications): 55 €
• Package MIDI (10 selected treatment-dependent indications): 87 €
• Package MAXI (17 selected treatment-dependent indications): 139 €

Discounts for children:
• Children under 6 years, with two adults in the room, without extra bed: FREE
• Children under 6 years, with two adults in the room, on extra bed: 15 € / day
• Children under 6 years, with one adult in the room: 20 € / day
• Children from 6-14 years, with resentment adult in the room: 40% discount on package price
• Children under 10 years, with two adults in the room, on extra bed: 24 € / day
• Children under 14 years, with two adults in the room, on extra bed: 30 € / day
• Cot (on request): 8 € / day

Supplements:
• Single room: 16 € / day
• Double room (single use): 24 € / day
• Full board adults: 15 € per person / day
• A romantic dinner in the à la carte restaurant Sofia (4 courses): 28 € per person / day
• Balcony in Sofia's court ****: 7 € per person / day
• Terrace in Sofia's court ****: 12 € per person / day
• Tourist tax: € 1.27 per person / day
• The registration fee (14 years): 1 € per person
---
Similar offers:
Wellness packages and health programs in Croatia
Terme Spa Tuhelj - All Inclusive Light

---
For all requests and information feel free to contact us on info@uniline.hr or call us on number +385 52 390 039