Why Istra?
Actually Istra has very good connections with most European destinations. Here in Istra operate many policlinics and dental practices already well known by patients mainly from Italy but also from Austria and Germany. Istra is also a particular region with a rich historical and cultural tradition. It is multiethnic and multicultural with a plenty of natural attractions and has a rich gastronomy based on world wide appreciated Mediterranean tradition. With its pleasant climate it offers relax and fun in every season But there is many more autochthon curiosity to be discovered...
How much can I save up?
It is not possible to give a definitive answer, it depends on may factors. The most significant saving resides in those treatments that are more complex and include oral surgery and implantology. In the case you already have an estimate from your doctor you can send it to us (without prices if you want) and we shall return the ours.
Dental studio Dr. Eva Skorupski Uravić (Istria, Croatia)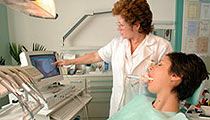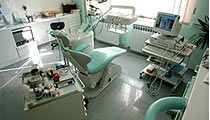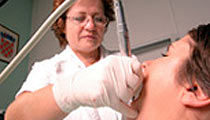 Dental office located in the centre downtown near the green market, with parking nearby and with very favorable prices (50% lower than abroad)

We use the best world materials in practice. For all techniques we have special licenses for permanent improvement and progress in practice, and many years of practice can guarantee liability.

Diagnostics and therapy are performed with latest dental systems from which we specially would like to point out RVG Digital Radiography System and Intraoral camera, equipment that makes hi quality treatment, monitoring during treatment, control and cooperation with patients possible.

Amongst other we offer you also:

surgical treatment of paradontal pockets
wisdom teeth extraction
resection of tooth root
aesthetic filling
jaw adjustment with aorthodontic instruments
How can I reach Istria?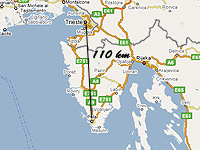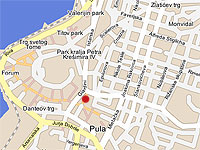 For the questions concerning travelling and accommodation you can refer to the Uniline agency. Uniline takes care also of requirements as trips, visits to historical sites, fun etc It is understood that your arrival and stay in Istra have to be coordinated with the appointments with the dentist. In this connection we suggest as first step to fill out the applying form.
Pricelist
| | |
| --- | --- |
| Category | Price in € |
| Dental implants | 600,00 |
| Dentures | 1000,00-2000,00 |
| Tooth whitening | 300,00 |
| Combined dentures | from 1500,00 |
| Rvg picture | 20,00 |
| | |
| --- | --- |
| Category | Price in € |
| Metal ceramic crowns | 250,00 |
| Root canal treatment | 100,00 |
| Tooth extraction | 50,00 |
| Complete denture | from 1000,00 |
| Treatment of granuloma | od 100,00 |
We welcome all Your inquiries and look forward to your arrival!