Attractions in Pasman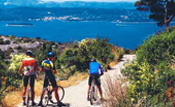 1. Scattered all over the island are mountain biking paths and one amongst most interesting for walking and cycling is surely trip to Mount V. Bokolj, offering stunning views of the neighboring islands, Kornati, Pasman channel and Biograd with its surroundings.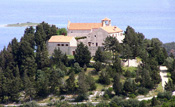 2. St. Benedictine monastery of St. Kuzma Built in 1059. at the location of former Byzantine fort and later church - Mt Ćokovac survived destruction and renovation, and was later converted into a Gothic style church. Located within the object is famous painted crucifix from the 15th century. Also, the monastery alone stands for the only active Benedictine monastery in Croatia and famous Glagolitic center. The word Cok in local dialect stands for blackbird (kos).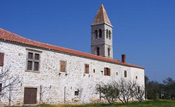 3. Franciscian Monastery of St. Dujma with a church Built in the 14th century, altered trough history, given to the Franciscians he stands today as a remarkable monument, museum and popular tourist attraction in Pasman. Famous collection of antiques includes monastic cloister, the painting of the Virgin and a number of exponents that tell the story about the history of the island and the people who lived there.